WASHPOINT's guide to soap and fabric
conditioner
Need help with soap and fabric conditioner? Read on to find out more.
Auto-dosing – what is it?
In some locations, soap and fabric conditioner are automatically added to the washing cycle.
This service is available at:
Edinburgh Napier University
University of Stirling
University of Warwick
Brunel University
Metropolitan Thames Valley Homes
You might also see this sticker on your washing machines: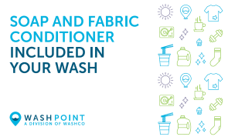 It makes life really easy. The machine is auto-programmed to add just the right amount of our non-biological detergent and fabric conditioner at the right time in the wash cycle. No more boxes or bottles to carry, less single-use plastic and beautiful smelling clothes. If you want to find out more about the detergent click here. If you want to find out more about the fabric conditioner click here.
How much detergent and fabric conditioner should I put into the machine?
If auto-dosing isn't available at your location, then you should add your detergent straight into the drum of the machine.
A common error can be adding too much detergent. Signs that might be the case are clothes which feel sticky when they come out of the washing machine or clean and dry laundry which feels crunchy or scratchy.
Of course, it depends on which brand you're using but, for example, for lightly soiled clothes our detergent only requires 10ml. That's two teaspoons worth!